Forced Labor Risks: Major Apparel and Footwear Brands' Supply Changed Ranked by KnowTheChain
Conditions of workers in the apparel and footwear industry have been in the public eye for more than twenty years: from reports of child labor in the footwear sector in the 1990s to grave health and safety incidents in Bangladeshi factories in recent years. This attention has resulted in companies putting systems in place to monitor and react to forced labor and human trafficking, but few companies address systemic causes.
Today, KnowTheChain, an ATEST-endorsed resource to help businesses and investors understand and address forced labor issues within their supply chains, released its third benchmark report on Apparel and Footwear, following the benchmark reports released this October on the Food and Beverage sector, and in June on the Information, Communications and Technology (ICT) sector.
Four companies performed particularly high with Adidas, Gap, H&M and Lululemon achieving scores above 60/100. Adidas, which ranked highest in the benchmark (81 out of 100 points), works in partnership with its first tier suppliers to support training for second tier suppliers and subcontractors, as well as develops models to address risks of forced labor in its third tier supply chain.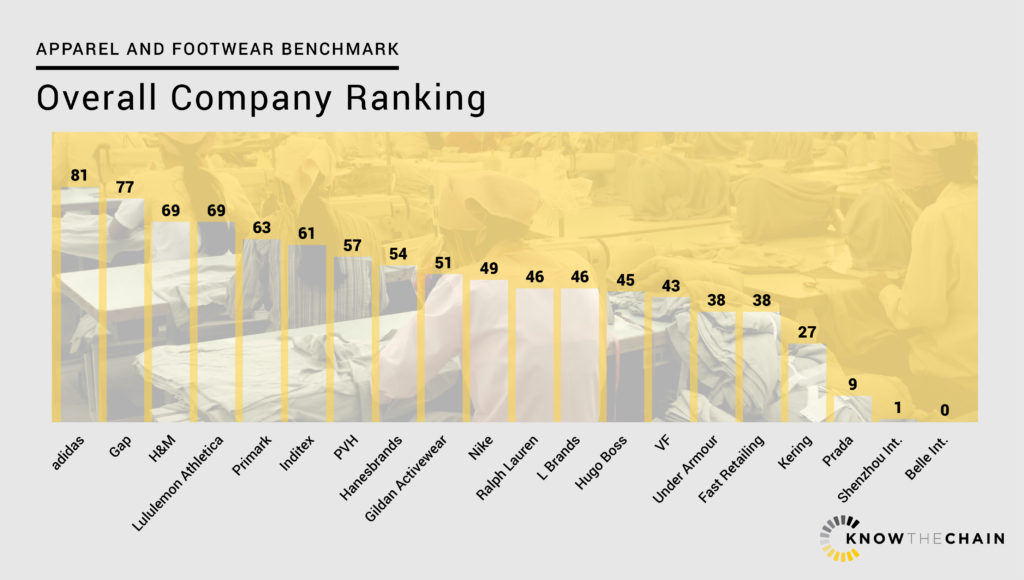 Luxury brands including Hugo Boss, Kering (holding company of Alexander McQueen, Gucci, Stella McCartney and others) and Ralph Lauren score much lower than high street apparel retailers (such as H&M, Inditex or Primark), with none achieving an above average score.
Among the solutions suggested for companies to improve their approach: provide workers throughout the supply chain access to grievance mechanisms; require and monitor that no fees be charged during any recruitment process conducted throughout the supply chain; and require first-tier suppliers to ensure that their own suppliers implement the same standards as they relate to forced labor.
View the full report here.